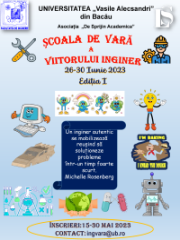 Înscrieri la adresa de email ingvara@ub.ro. Click pentru fișa de înscriere!
Colloque francophone PLUridisciplinaire sur les Matériaux, l'Environnement et l'Electronique
---
RESEARCH
The second mission of the faculty is scientific research.
There are 6 research centres – five accredited by The National Council of Scientific University Research and one by internal procedures.
Technological and managerial engineering research centre
Mechanical engineering research centre
Energetics, mechatronics and IT research centre
Environmental engineering and protection research centre
Applied chemistry and process engineering research centre
Chemical, Biochemical and food engineering research centre
Centre of excellence for professional development in design, simulation, industrial and lifecycle management